Document management for the finance department – An Easy ROI
Published Monday, April 7, 2014 3:10 PM by Wearev1, Author
SMEs always have a lot on their plate, especially when the economy is not performing. Many of them still rely on tried and trusted manual systems to run their businesses.
While many of these businesses employ fewer than 250 employees, they account for more 48 per cent of business turnover in the UK.
Are Manual Systems Effective?
Businesses have to keep proper records for accounting, tax, and legal purposes. They also need these records to effectively manage their businesses.
In order for a company to thrive it has to be efficient and use its resources effectively; it cannot afford to carry non-productive overhead costs.
Yet, to a large extent that is exactly what manual systems are, non-productive, as they need substantial clerical resources to function properly. The manual preparation of documentation, collation of back-up documentation, invoice preparation and reconciliation are tedious tasks requiring diligence and care, yet they are still prone to error.
Why Don't SMEs Adopt Electronic Documentation Methods?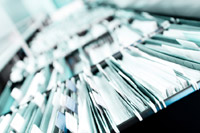 It is estimated that only 25 per cent of UK companies have adopted electronic document management systems.
Many businesses do not see document management software as being cost effective. Their view is that the cost of digitising their documents is high and that such systems are expensive.
Others are sceptical of the benefits of paperless office solutions, assuming that these systems will not meet their needs, and that the annual cost of administering such systems is prohibitively high.
Many are more concerned with cutting costs than investing in what is viewed as unnecessary infrastructure. They prefer to invest their time and money in activities that they perceive will increase cash flow and profitability.
Are They Right?
While the concerns expressed have some validity, some companies overlook the fact that ineffectual manual systems absorb a great deal of clerical time and effort and that these systems hamper effective management of accounts because critical information is not readily available.
Small Business UK estimates that the average SME is owed more than £11,000 with 20 per cent owed over £30,000, with one-third of invoices overdue. They also highlight how most of these companies rely on manual invoicing and reconciliation systems and that the lack of automated systems is contributing toward their cash flow problems.
There are other figures available that indicate that a significant amount of time is wasted finding and retrieving documentation. The cost of this work is significant and it has been variously calculated that this can increase the cost of each invoice by 333 per cent. When the indirect costs of time wasted by clerical and managerial staff are factored in, the average invoice can cost a company £35 to prepare.
If this can be reduced to £10 through the adoption of a document management system, and assuming a company sends 200 invoices every month, the reduction in overhead costs could amount to £60,000 per annum. And, if this results in payment on time, cash flow will improve, freeing reserves for other uses.
The Solution
A document management solution can provide a company with the following features:
Immediate access to all documentation electronically
Secure document storage
Fast and efficient electronic transactions
Automated invoice capture
Invoice authorisation
The adoption of these solutions can reduce company overhead costs and improve cash flow by eliminating:
Misplaced documents
Time-consuming data entry
Delayed invoice authorisation
Inefficient filing systems
Expensive and non-secure document storage
In almost every case, when a proper analysis is performed comparing the costs of manual systems, companies save money by adopting document management solutions and improve their profitability.
Document management for the finance department - An Easy ROI
by