Automate financial control with V1 Expenses
V1 Expenses is a web browser based expense management solution that reduces the time and cost of processing expense claims. V1 Expenses gives your employees an easy way to enter expenses and managers an easy way to approve, and in doing so, cut the cost of processing expenses, avoid re-keying of data and reduce errors and risk of fraud.
Counting the cost of travel and entertainment expenses
Travel and entertainment is one of the largest controllable corporate areas of spend. Organisations who rely on paper or spreadsheet based processes are inevitably incurring unnecessary cost, process bottlenecks, delays and risk of errors or fraud. Any organisation with more than 25 expense claimants will benefit by automating expense management, with typical a Return on Investment (ROI) within 3 to 9 months of going live.
Reduce expense administration time and costs
Processing manual, paper-based or spreadsheet based expense claims is inefficient, time-consuming and frustrating for employees, managers and finance teams. Eliminating the paper-chase not only saves time, it also reduces the opportunity for errors often caused by a lack of audit trail or incorrectly completed expense forms.
Enforce company expense policies
Limits will need to be set for expenses such as accommodation and travel in line with your company policy so that employee claims are always within allowable limits. Users can add notes and detail to the claims and specific items to assist the approver. You can specify mileage allowance rates, enabling the system to automatically calculate the amount due to claimants.
Expense capture and approval
Simplify expense claim entry, approval and processing, in order to save time, speed up claims processing, help to cut costs and reduce errors. Approvers are automatically alerted when they are required to approve expenses using the in-built alerts facility and claimants can check the status of their claims at any time.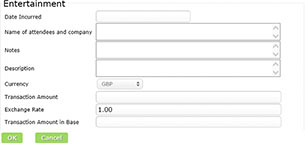 Cash expenses claims form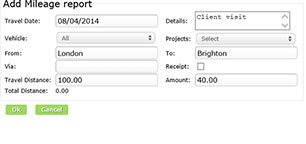 Built in pop ups include Mileage capture linked to engine size and mileage total YTD.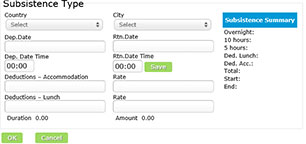 Built in pop ups include Mileage capture linked to engine size and mileage total YTD.
Company credit cards
A administrator can import company credit card transactions into V1 Expenses and automatically generate expense claims with credit card transaction for reconciliation. Users can verify credit card charges and then submit the expense details for approval and processing.
Business entertainment expenses
Detailed back-up records of business entertainment expenses and associated information and receipts are maintained. Users are required to detail the business purpose of the expense, attendees, date and cost.
Per diem payments
V1 Expenses can automatically calculate subsistence allowance entitlement based on the duration or location details of the expense.
Capture expenses relating to projects or customers
V1 Expenses overcomes delays in billing or cross charging of expenses to projects or customers. Your customers can be provided with detailed explanation of an expense re-charge and copies of back up documentation and receipts.
V1 ExpensesMobile Approvals using iPhone
V1 Expenses Mobile Approvals for iPhone is designed for organisations seeking to improve organisational efficiency by facilitating notification, review, approval and rejection of expenses by designated authorisers using their iPhone.
Key Features
Travel expense requests and approvals
Expense entry, submission and approval
Import Corporate Card transactions
Business entertainment expense recording
Calculation of subsistence allowances
Business mileage rates and calculations
Electronic management of receipts
Mobile Approvals using iPhone
Managers delegate approvals when absent
Customer or project related expenses
Multi-currency expenses
Multi-level approvals automatically route claims to appropriate managers for authorisation
Multiple companies
Audit trail
Automatic email alerts and notifications
Export to Microsoft Excel
At V1 we are committed to helping you streamline your business.
For more information on our solutions and how they could benefit your company, either call us directly, use the form or send us a quick email.