Document Management Software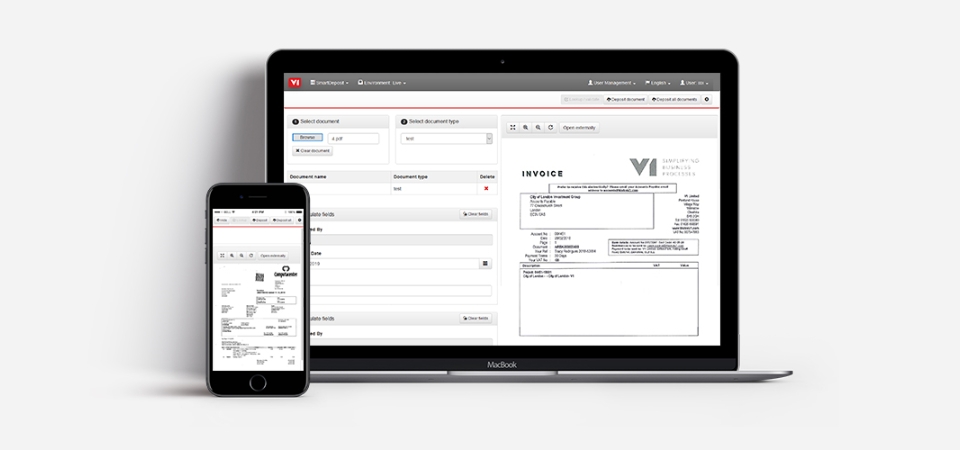 Document Management Software
Organisations want to be able to manage key business documents within their existing Financial Management System (FMS) / Human Capital Management (HCM) / Enterprise Resource Planning (ERP) / Customer Relationship Management (CRM) system. Our Cloud-enabled, end-to-end document management can seamlessly integrate with these systems. We combine the power of Robotic Process Automation (RPA) with the freedom of the Cloud, helping you develop touchless, automated processes.
100 MILLION
INVOICES PROCESSED
ANNUALLY
£150 MILLION
SAVED ANNUALLY
Understanding key issues
CHALLENGES
Manual processes
Due to manual processes, professionals may lose track of documents, causing confusion in the organisation.
User experience
Without simple processes and workflow technology, you risk increasing human error which leads to delays.
Going paperless
Physical documents create visibility problems and wasted resources as employees spend time completing mundane admin tasks.
Integration
Often organisations struggle to find a document management solution that will integrate with their existing ERP, FMS and HCM system.
How our Document Management software can help you
FEATURES & BENEFITS
SmartPortal

Our smart suite of business automation software helps you operate more effectively, cutting the cost of your processes in half by using cognitive capture technology.

SmartDeposit

V1 SmartDeposit enables authorised users to easily add electronic documents to the V1 document repository, whenever they need to, for safe keeping and easy future retrieval.

SmartRetrieve

V1 SmartRetrieve means authorised users can quickly retrieve electronic documents that have been stored in the V1 document repository.

SmartRetentions

V1 SmartRetentions simplifies the handling of documents that contain personal data by enabling the identification and deletion of documents that have hit the end of their retention period.

SmartMail

V1 SmartMail allows your organisation to save time and money by emailing key business documents from your core applications with a few clicks, and you can also receive them too.

SmartExtract

V1 SmartExtract uses automated classification, data extraction and continuous improvement through machine learning to help your organisation to streamline its accounts payable process.

Efficiency

We provide document automation software that helps organisations unlock value by introducing intelligent process efficiencies.

Complete end-to-end solution

A complete end-to-end solution, typically integrated with ERP, FMS and HCM systems. Our solution enables your organisation to add, capture, store, manage, access, approve and measure documents.

Paperless functions

A comprehensive product suite that will allow your organisation to replace paper-based processes with electronic procedures, ultimately improving your business performance.

Saving time and resource

Complete laborious tasks electronically and with automation to save considerable amounts of time. This enables you to free up time and resource for more important tasks.

Reduced errors and risks

By streamlining your processes and introducing automation it reduces the risk of human error. This improves risk management surrounding regulatory compliance and traceability.
Ongoing software innovation and developments
PRODUCT UPDATES
We are always improving and innovating our products to deliver the best experience for our customers. Here are a selection of the latest updates to our document management software.
4.7

Release 4.7, also released in 2019, was a satisfaction pack for DbCapture, and contained improvements to templates, support for additional country VAT numbers and improvements to OCR accuracy.

4.6

A major new feature in Release 4.6, launched in August 2019, is the ability to create translations for the 'Smart' products into any of 181 languages. Customers can also see the remaining number of pages / documents on their OCR licence from within DbCapture, and it is now possible to host many of the existing 'Db' products.

4.5

Release 4.5, launched in March 2018, includes a new 'SmartRetentions' module, intended to assist our customers with document retention and disposal, particularly in response to the General Data Protection Regulation (GDPR). A number of enhancements to other 'Smart' products are also included, as well as additional supported platforms.